---
A cleanroom is used in many applications, including R&D and manufacturing. A cleanroom requires a high initial investment. In addition, its running cost is expensive as air cleaning equipment needs to keep operating in order to maintain a certain level of air cleanliness.
KOACH provides the ultimate solution.
In a short time after switch on, KOACH can create a clean zone with air cleanliness level rated at ISO Class 1. KOACH not only saves initial investment but also saves running costs as it operates and makes a clean zone only when needed just by turning on the power switch. The product line of KOACH can meet various customer requirements for a clean zone, ranging from large space to limited tabletop space.
---
Table KOACH T 500-F (with FERENA filter)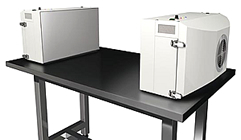 Air cleanliness rating: ISO Class 1
Time required to achieve ISO Class 1: 110 seconds (flow rate: 0.4m/sec)
Maximum Distance for clean zone: Within 700mm (Maximum distance between the pair of push hoods)
Power: Single phase, 100V 50/60Hz
Power consumption*2: 35-110W/unit
Size of air-blowing surface: W:494mm x H:306mm
---
Bench KOACH C 900-F (with FERENA filter)
Air cleanliness rating: ISO Class 1
Time required to achieve ISO Class 1: 105 seconds
Ideal for ICP-MS Sample Prep or Highly Sensitive Sample Prep
Maximum Distance for clean zone: Within 2300mm (Maximum distance between the pair of push hoods)
Power: Single phase, 100V 50/60Hz
Power consumption*2: 360-730W/unit
Size of air-blowing surface: W:900mm x H:700mm
---
Diagonal KOACH D 900-F (with FERENA filter)
Air cleanliness rating: ISO Class 1
Time required to achieve ISO Class 1: 105 seconds
Maximum Distance for clean zone: Within 2300mm (Maximum distance between the pair of push hoods)
Power: Single phase, 100V 50/60Hz
Power consumption*2: 360-730W/unit
Size of air-blowing surface: W:900mm x H:700mm
---